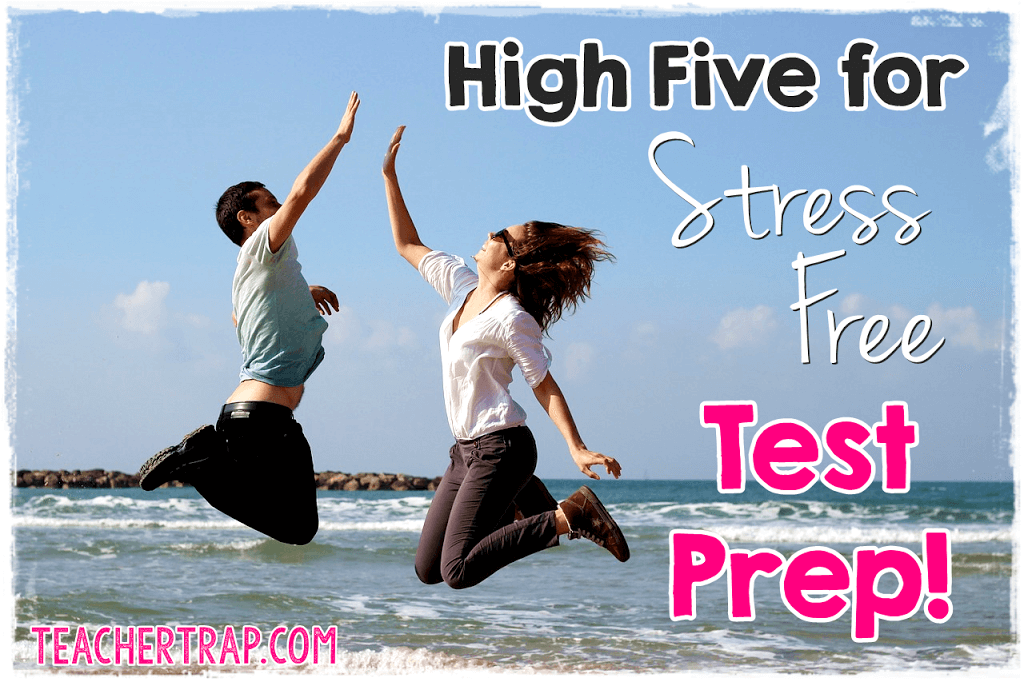 The tests are coming! I may be panicking on the inside, but I'm trying to help my kids feel confident and prepared. Rather than burning them out with a million practice tests, we have been doing a "Test Genre Study" and I'm loving it. The kids are analyzing the test (in Texas we take STAAR) and reflecting on what they notice. This allows me to review the different skills we've worked on throughout the year, while also making sure they "get" how the test works.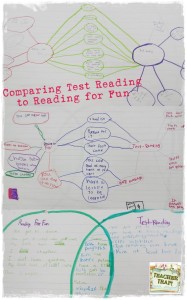 We started with a KWL of for STAAR. What do kids think they know about the test? What do they wonder about the test? Not surprisingly, a lot of their ideas were inaccurate and causing them unnecessary stress. The "W" allowed them to ask all those questions that have been floating around in their brains. Last, we talked and listed all the information we gathered on the "L."
Next came some comparing using double bubble maps or venn diagrams (I let the groups choose.) I wanted kids to make the connection that their purpose for reading on a test is different than their purpose when reading for enjoyment. At the same time, I want the kids to understand that even when reading on a test, we still use our good reading strategies!
The comparisons gave rise to some great conversation among students! After groups created their posters, each group shared out and highlighted their most important ideas.
The next day, we started to look at the different kinds of questions students will see on the reading test. I gave small groups question samples (inspired by released tests and test prep materials) that showed all the different ways they would be asked different kinds of questions. We started with main idea, summary, and author's purpose. It's shocking to me how many kids weren't connecting the fact that when it said "The author probably wrote this to…" that was an "author's purpose" question!! After sorting questions, the kids had to look over the examples in each category and talk about similarities. This was a great way to review the skill and also to help them realize the different ways that skill is tested.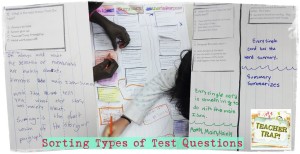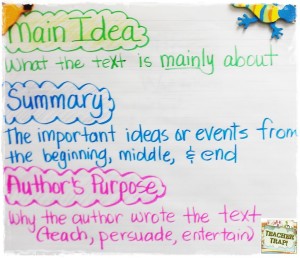 We've also reviewed questions that go with identifying word meaning, giving proof, and inferring. The "giving proof" questions are so confusing for my students. Like when it says "The reader can tell __ because…" or "Which statement helps the reader know ___?" I find that once students can identify a "give proof" question, they have a much easier time answering.
We're also doing some work with matching the questions to the location in the text where we'd find the answer. I like the kids to actually chop up the questions and physically attach them to the passage next to the paragraph that holds the answer. For many students, I've found this to be the only real way to get them to GO BACK to the passage.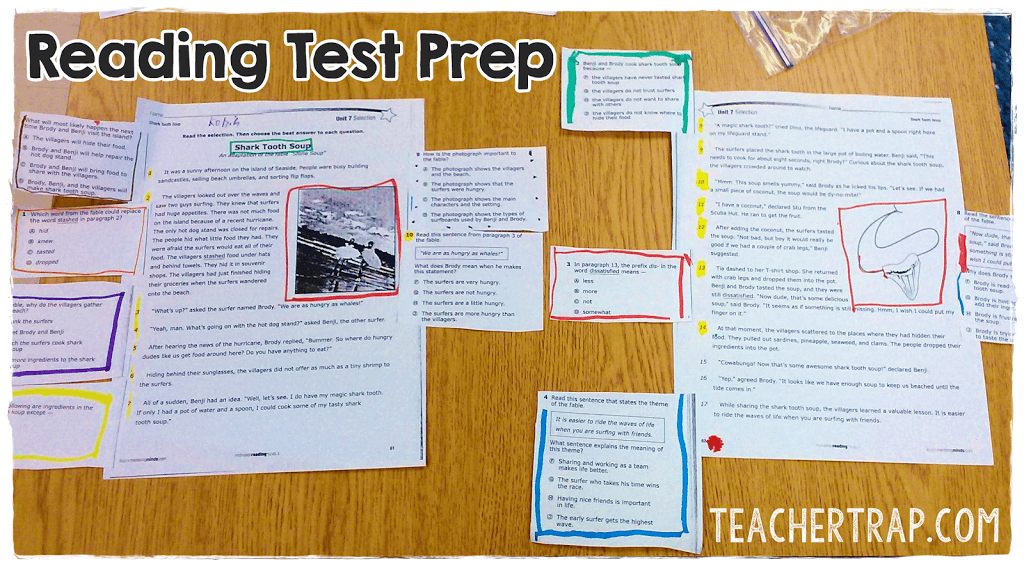 We also did this whole group on a GIANT, poster-sized passage. I've done it on the document camera, too, but there's something special about having the giant-sized passage. It really draws the kids in. We copied the questions onto colorful paper to make them stand out more. After doing a shared reading of the passage, the kids helped to identify where we'd find the answer to each question. For some questions (like summary), there wasn't one specific spot, so we left those above the passage.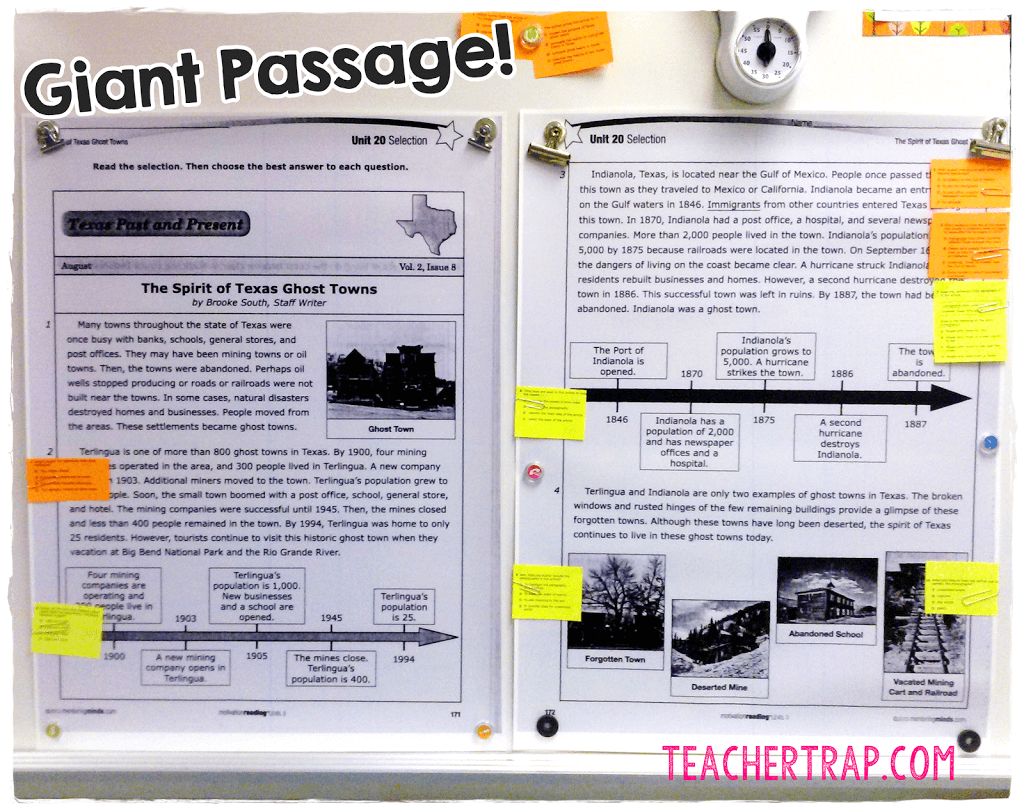 One year, I'd like to try having the kids read a passage and answer questions without prompting them to use any strategies. Then after we do our genre study and go over test-taking strategies, have them re-take the same passage. I think it would be interesting to have kids assess their own progress and compare their scores when using and not using strategies.
This has been such a collaborative process in my classroom and I'm glad we're not in FREAK OUT mode even though the test is only 2 weeks away.
The activities I am using are posted on TPT if you'd like to view or download. No panicking involved. 🙂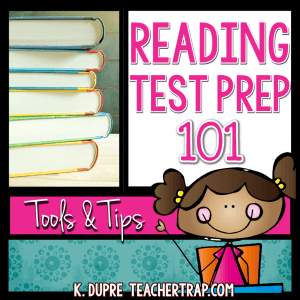 View "Reading Test Prep 101" on TPT

My inspiration for these activities came from an awesome book called Put Thinking to the Test. This book is packed with thoughtful ideas about how to prepare kids for standardized tests without teaching to the test, stressing kids out, or sacrificing meaningful learning experiences. Highly recommended!
Good luck out there!
😉 Kady