So we just took a reading test. My kids bombed it. I mean BOMBED. It was a folktale-ish fiction passage that required a decent amount of inferring. But it was short and I honestly didn't think the questions were that bad. Challenging, but not impossible. I was bummed, to say the least. Why are my kids not comprehending this fairly simple story???
After I began meeting with my small groups to go over their tests, something became suddenly clear to me. The kids weren't applying their "good reading" skills on tests. They were using their "test-taking" strategies, but forgot all about the good reading strategies we've been working on all year. SO, I began to ask students to slow down as we reread the story and describe the pictures in their minds. Many didn't have any! They kept retelling what happened but weren't "SEEING" it. As a class, we reviewed the VISUALIZING strategy. I read the test story aloud and asked students to close their eyes and simply imagine what was happening. Next, I asked them to pick a scene from the story and illustrate it to show their mind movie.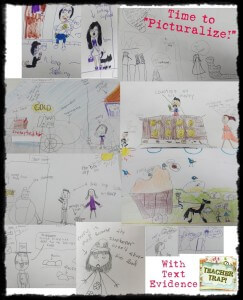 At some point, one of my girls morphed "mind pictures" and "visualize" into "picturalize" and this spread like wildfire through the room. So now we are picturalizing everything! As they were sketching, I asked them to include text evidence to support their drawing. This is where things got good! They started discussing what they knew and how they knew it. They debated the clues and what they thought. And their pictures became so detailed!! Here are some of the drawings my students produced.
They included things like dollar bill signs in the shopkeepers eyes (he was greedy) and thought bubbles to show what the characters were really thinking (even when it wasn't stated!). They remembered TONS of details that I had even missed.
After sketching and sharing their pictures, I handed back the tests. I gave them one more chance to read and answer the questions and then regraded the tests. The grades SKYROCKETED! One student went from missing 11 out of 20 to missing only 1. Over half my students failed the first time but none failed the second time.
This was a big lesson for me. I had been focusing so much on test prep recently that I forgot to push quality reading on tests. The kids suggested a new test strategy… They decided the best strategy was to read the story once and focus on "picturalizing" the story in your mind. Next, look over the questions and then read the story again with a focus on those ideas. And THEN begin working on the questions and using those handy test-taking strategies. Not bad guys. Maybe next year they can come back and do some lessons with my new group of kiddos.
😉
Kady