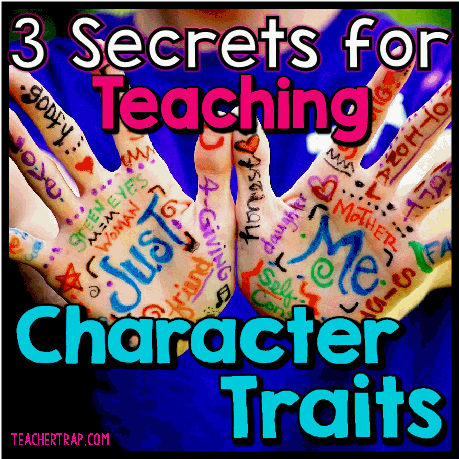 I love teaching character analysis!  I love looking closely at an interesting character and trying to uncover what makes them tick.  And in my experience, kids love this process, too.  Unfortunately, for many kiddos, understanding character traits is a bit tricky.  Here are three big pitfalls and what to do about them!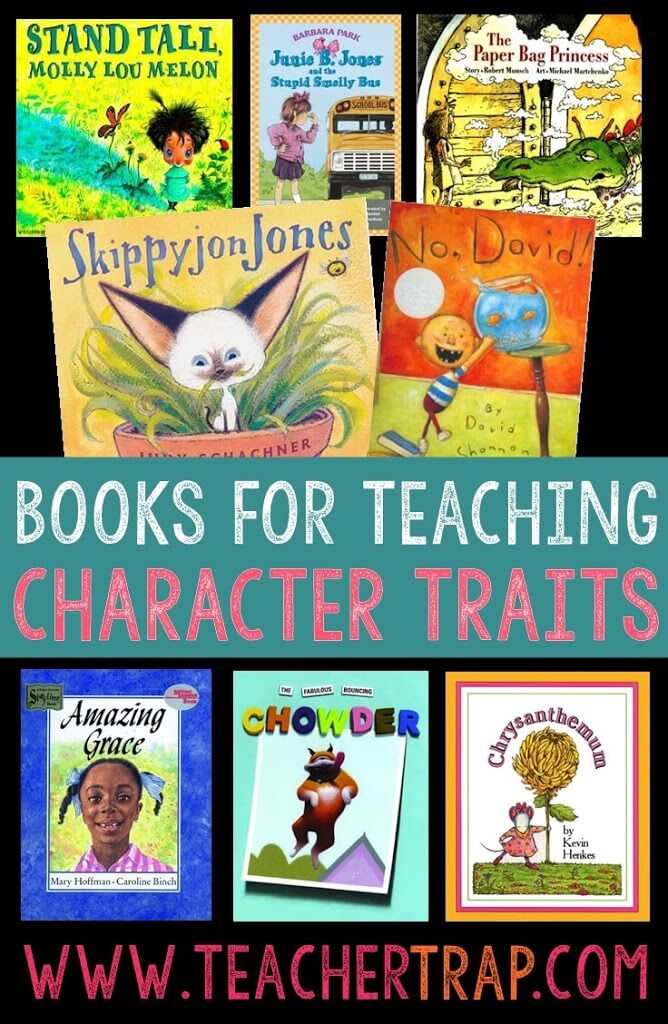 Read alouds for character traits.
1. VOCABULARY!
One of the biggest issues is simply vocabulary.  Most kids are familiar with the basic emotions – sad, happy, mad.  But words that describe traits, such as compassionate, driven, and selfish, are often totally new or only partially understood.  Build vocabulary by including LOTS of read alouds with rich discussions about the characters.  List those traits on anchor charts or in notebooks, illustrate different traits, and use that vocabulary in the day-to-day of the classroom as much as possible!  Any book with a strong character can be used for teaching traits but here are some of my favorite books/authors for character study. (You can read more about these books on Amazon by clicking the links at the bottom of the post.)
2. OUTSIDE VS INSIDE
Another aspect that trips ups kids is understanding the difference between what we see on the outside and what the character is like on the inside.  Ask younger students to describe a character and you'll often get a description of their physical features.  Help kids understand the difference between physical traits and personality traits.
Physical traits can be seen with our eyes.  Personality traits are trickier.  We have to use what we know about the character – their actions, choices, words, thoughts, feelings and more.  We must use all of those clues to draw conclusions about the personality of the character.  An anchor chart, a few class discussions, and some notes in a journal is all you need to clear up this misconception.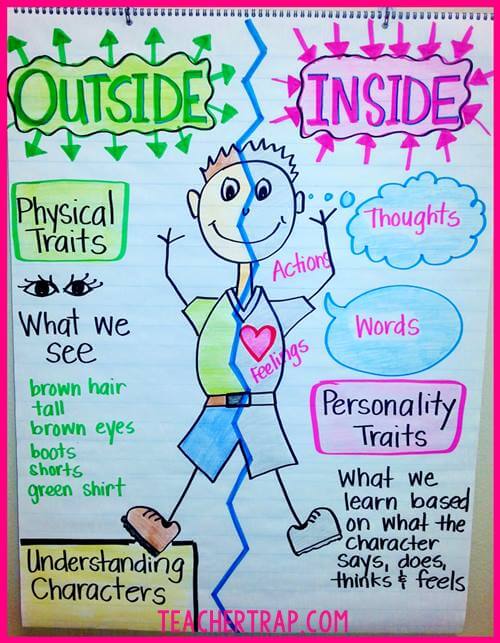 Character Traits Anchor Chart: Inside Vs. Outside the Character
3. EMOTIONS VS TRAITS
Another area of confusion is the difference between emotions and character traits.  Many students want to describe a character as "angry" because the character was angry at one point in the story.  Or they'll say a character is "sad" because she cried.  The emotion might be correct for the situation, but when we're talking character traits, kids need to think bigger picture.
Ask students to think of a time they were angry about something and share with a partner.  Next, ask "Would you describe yourself as an angry person?"  Allow for some discussion.  Help kids see the difference between how you felt at a certain time and how you tend to behave all the time.  A "trait" is true all or much of the time.  An "emotion" is true only for that situation.
Below is my handy anchor chart.  You can't tell in the photo, but the "Emotions" side is written and colored in purple, while the "Traits" side is written and colored in blue.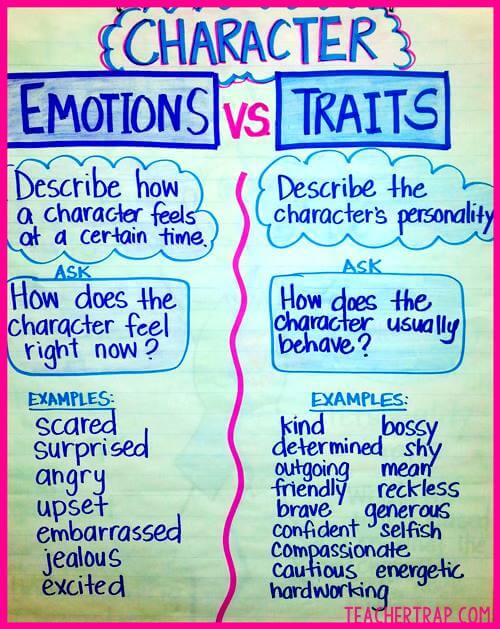 Character Traits Anchor Chart: Emotions Vs. Traits
If you'd like some more resources, check out my Character Study pack on TPT.  You'll find a student booklet, foldables, and notebooking ideas! 🙂  Plus, I've included a free COLOR version of the printable anchor chart in the PREVIEW file!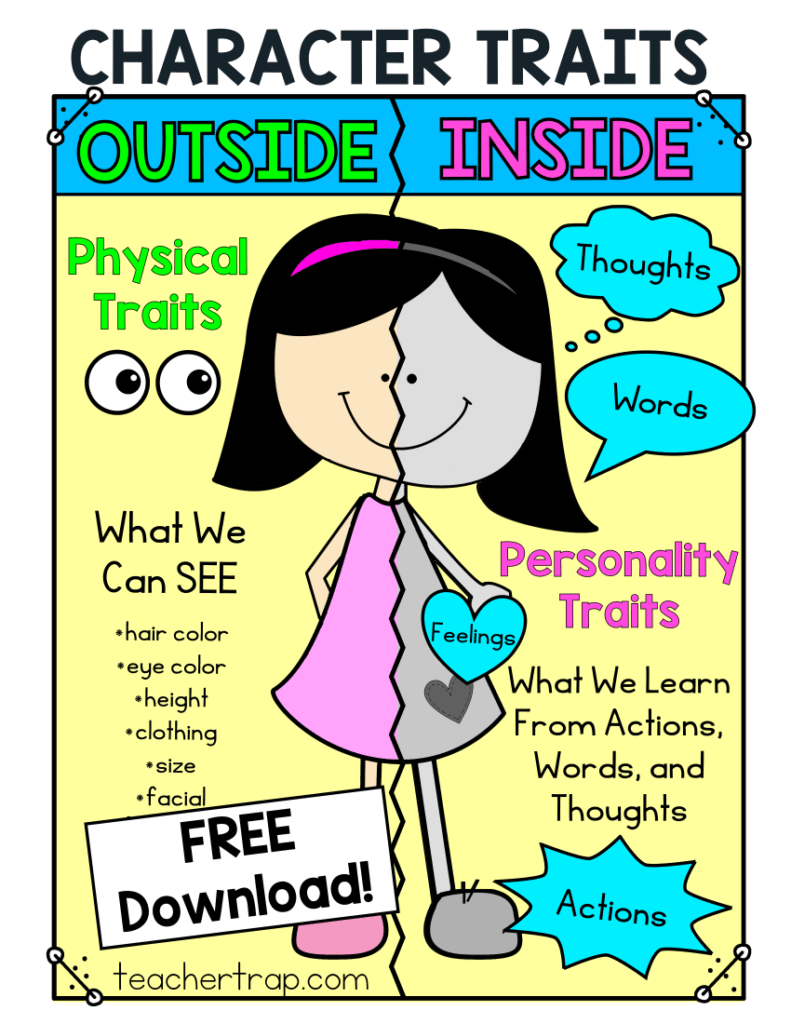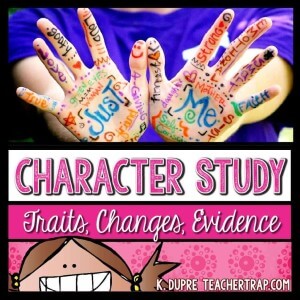 Character Study Pack on TPT
Back to the books!  Here are some of my favorite read-alouds for teaching character traits.  I like to start with short, simple books like "No, David!" because the kids don't get lost in the story or zone out while reading.  You can spark surprisingly rich discussion about a simple character like David.  Is he bad?  Is he good?  What words best describe him?  And you can easily begin teaching lots of great vocabulary (kindhearted, impulsive, energetic, playful, forgetful, etc.).  Plus, I just love David!
I'd love to hear any other book recommendations!  There are so many great ones to choose from!
🙂  Kady