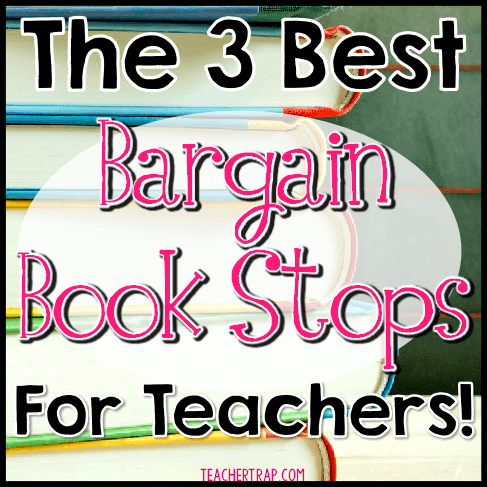 First off, I should probably mention that my obsession with books most likely qualifies as some kind of disorder.  But luckily for me, book-buying is not a dangerous or destructive addiction (that I know of…), so I will continue to browse to my heart's content!
Secondly, I am excessively thrifty.  Also known as CHEAP.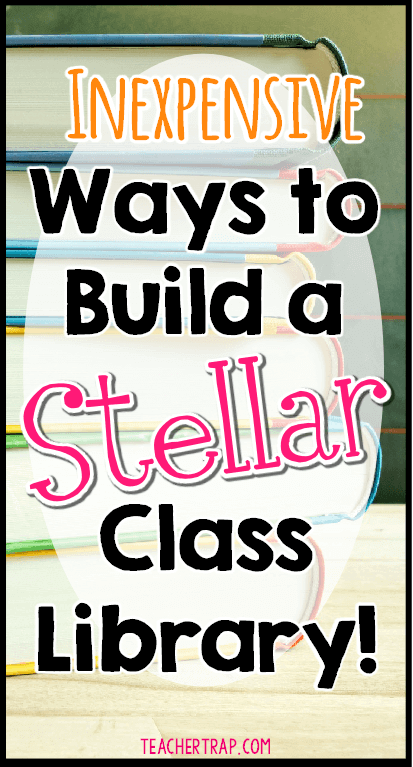 These two traits have combined over the years to make me an EXPERT BOOK SHOPPER and I am here to share my knowledge with you all today.
Here you'll find my 3 favorite places for scoring high-quality and inexpensive children's books along with TIPS for getting the most out of each place.  Having a STELLAR classroom library is extremely important to me and I think it plays a huge role in inspiring young readers.  But I also refuse to spend more than $1 per book.  Can you have a STELLAR classroom library without spending more than $1 on a book?  YES, you can!
And just to clarify, when I say STELLAR, I mean a classroom library with tons of high-interest, high quality texts including current fiction and nonfiction!  This post is not about simply stocking your library with LOTS of books.  It's about stocking your library with GREAT books.
BARGAIN BOOK STOP #1
Let's start with my favorite spot of all: Half Price Books!  You wouldn't believe the great deals I find at HPB!  If you haven't been in one, this is a book store where they sell USED and NEW books.  I am very picky about the books I buy – they must be in NEW or LIKE-NEW condition.  A bent page corner or creased cover doesn't cut it for me.  I find BRAND NEW, current titles at HPB all the time!

TIP: GET THE TEACHER CARD!
You can save 10% on every purchase with the free Teacher Card!  
TIP: SHOP CLEARANCE!
For the best deals, make sure you find the children's CLEARANCE section.  The books are usually marked $1 in this section at my store, so with my Teacher Card, I only pay 90 cents!  MY HPB regularly marks down Clearance books to only $.50 which means I scored some of the great titles above for only 40 cents!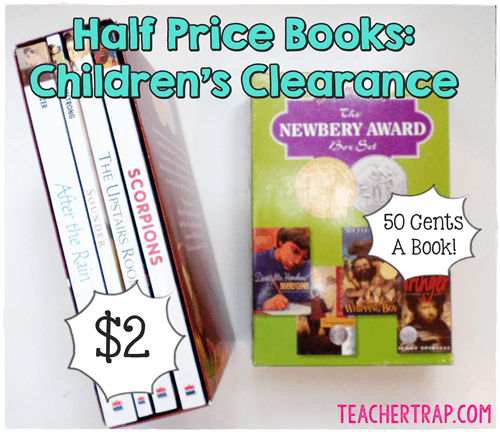 Real book deals from Half Price Books!!
I picked up these Newberry Award Boxed Sets for only $2 a piece in the Clearance section a few weeks ago.  With my Teacher Card, I paid less than 50 cents book!
And yes, the Clearance section tends to have a lot of "used" books, random titles, and odd topics, but I ALWAYS find at least a few gems, if not a whole stack!
TIP: GO OFTEN!
The best way to find great titles at HPB is to visit often.  The titles in the Clearance section change quickly and you don't want to miss the best ones.  I tend to go every other week or so to browse for a few minutes (which may or may not turn into an hour).
BARGAIN BOOK STOP #2
Another great spot is your local Goodwill (or any thrift store.)  The books above are a sample of the HARDCOVER, LIKE-NEW, current texts that I picked up at various thrift stores around town.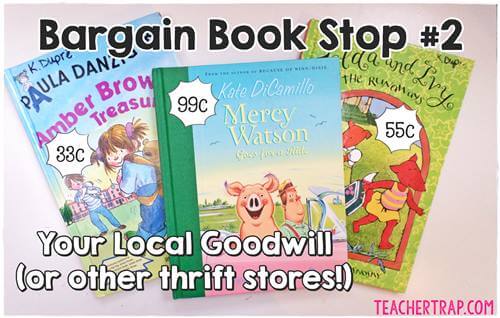 Great book deals at Goodwill!

THRIFT STORE TIP: BE CHOOSY!
Most of the children's books I see at thrift stores are the cutesy books about whatever popular cartoon character or movie.  I'm not a fan of these type of books because they usually lack in plot and character development.  BUT, if you dig around a bit, you can find all kinds of great, quality titles.
BARGAIN BOOK STOP #3
I know everyone is already familiar with Scholastic Book Clubs, but I just had to share some tips on ways to make them really WORK for you.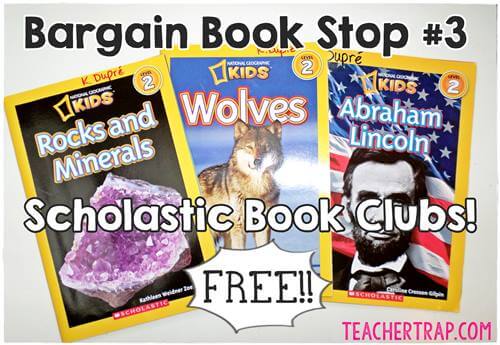 Free books with points!

TIP: MAKE A BIG DEAL!
Sounds silly, I know.  But here's the thing: many parents don't realize that classrooms earn free books when they order AND many parents want to help out the teacher, but don't know how or don't have time.
At the beginning of the school year, I send a letter home explaining how one of my goals is to have an outstanding classroom library for their child to enjoy.  And parents can help make this happen simply by purchasing books through Scholastic Book Clubs!
I also send a standard letter home with each Scholastic Book Club flyer I send.  The letter highlights some of the great choices and best deals in the flyer.  Look!  A great book for $1! Our class loves this series!  Etc.
Last, but not least, I mention the free books we've earned in our class newsletter.  If you use a digital newsletter you could even snap a photo.
TIP: PARENT ONLINE ORDERING!
Scholastic Book Clubs offers online ordering to parents now.  In my class, we do online ordering ONLY.  Personally, I don't have the time to collect a bunch of forms and remember to mail them, etc.  I simply give my parents the Class Activation Code and they do the ordering and payment online.  The books still arrive at the school and I send them home, but the teacher doesn't have to do any tallying or organizing of the order.
TIP: FOCUS ON NONFICTION SETS! 
My last tip is for how to use your points.  To get the most bang for your buck (or points, that is) take a look at the Nonfiction Book Sets.  Scholastic carries some incredible series, such as National Geographic Kids, the Smart Words Science Series, and the Science Vocabulary Series, that will help you build the nonfiction section of your class library.  The sets cover a ton of topics, many perfectly aligned to my Science instruction, and come at different reading levels.
My kids LOVE these books and we all need more nonfiction in our classrooms!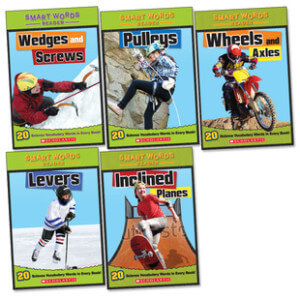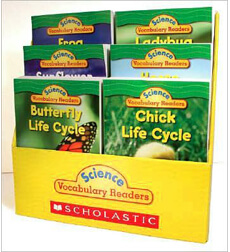 FINAL TIP: TEACH KIDS BOOK CARE!
My last and final tip for building a STELLAR classroom library is to teach your students how to care for books and hold them accountable!
On the very first week of school, I make sure to talk to my students about how much I LOVE my books.  I model the "right" and "wrong" ways to hold a book so that students don't break the spines of the chapter books.  I show students my basket of "mistreated" books and sadly show them the casualties of books that were stepped on, written on, torn, or crushed in the back of a desk.  I even do a quick lesson on how to put books back into the baskets and bins neatly.
Amazingly, I find that most kids take all of this to heart and put in a big effort to care for our classroom books.  I also have students help with keeping the class library neat and organized.
I hope you got some new ideas here!  And as always, feel free to share your own Bargain Book Stops in the comments below!
😉 Kady