First off, I should probably mention that my obsession with books most likely qualifies as some kind of disorder.  But luckily for me, book-buying is not a dangerous or destructive addiction (that I know of…), so I will continue to browse to my heart's content!
Secondly, I am excessively thrifty.  Also known as CHEAP.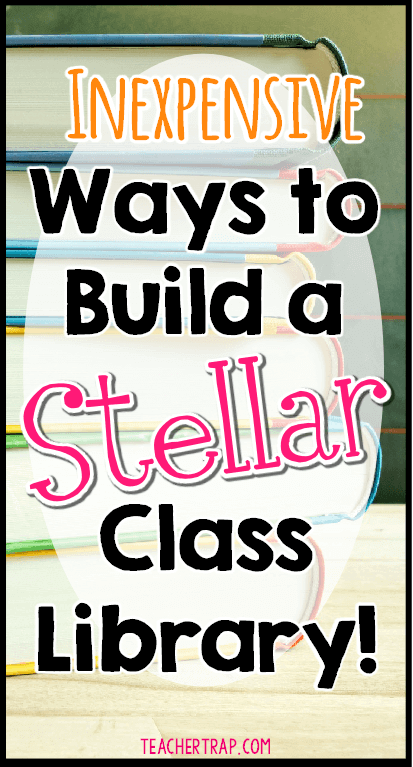 These two traits have combined over the years to make me an EXPERT BOOK SHOPPER and I am here to share my knowledge with you all today.
Here you'll find my 3 favorite places for scoring high-quality and inexpensive children's books along with TIPS for getting the most out of each place.  Having a STELLAR classroom library is extremely important to me and I think it plays a huge role in inspiring young readers.  But I also refuse to spend more than $1 per book.  Can you have a STELLAR classroom library without spending more than $1 on a book?  YES, you can!
And just to clarify, when I say STELLAR, I mean a classroom library with tons of high-interest, high quality texts including current fiction and nonfiction!  This post is not about simply stocking your library with LOTS of books.  It's about stocking your library with GREAT books.
BARGAIN BOOK STOP #1
Let's start with my favorite spot of all: Half Price Books!  You wouldn't believe the great deals I find at HPB!  If you haven't been in one, this is a book store where they sell USED and NEW books.  I am very picky about the books I buy – they must be in NEW or LIKE-NEW condition.  A bent page corner or creased cover doesn't cut it for me.  I find BRAND NEW, current titles at HPB all the time!

TIP: GET THE TEACHER CARD!
You can save 10% on every purchase with the free Teacher Card!  
TIP: SHOP CLEARANCE!
For the best deals, make sure you find the children's CLEARANCE section.  The books are usually marked $1 in this section at my store, so with my Teacher Card, I only pay 90 cents!  MY HPB regularly marks down Clearance books to only $.50 which means I scored some of the great titles above for only 40 cents!
And yes, the Clearance section tends to have a lot of "used" books, random titles, and odd topics, but I ALWAYS find at least a few gems, if not a whole stack!
TIP: GO OFTEN!
The best way to find great titles at HPB is to visit often.  The titles in the Clearance section change quickly and you don't want to miss the best ones.  I tend to go every other week or so to browse for a few minutes (which may or may not turn into an hour).