Glue Bottle Vs. My First Day of Teaching
Quick flashback to my first day of my first year of teaching.  Fresh out of college with my Masters degree in Education, I was absolutely overflowing with ideas that I couldn't wait to implement in my very own classroom.  I had STRONG beliefs about the best ways to build classroom community, grow problem-solvers, manage behavior, inspire young writers, promote critical readers, develop mathematical minds, and so so much more!  I wanted to do it all and I didn't want any help.
Yet there I was, pretending to be confident as I met my new students and their families, all the while feeling like I might throw up at any moment.  And suddenly the families were gone and I was left with a room full of first graders, all looking to me for direction.  I was their teacher.  Things just got REAL.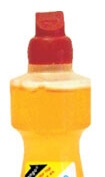 And even though I still felt like I might throw up at any moment, I began the day, guiding my class in organizing their school supplies and desks.  As they were putting things away, a sweet little girl raised her hand.  She couldn't figure out how to open her glue.  I went over to help and I couldn't figure it out either.  It had this weird orange rubber top that seemed to be sealed and didn't twist up like regular plastic glue tops.  I peered down at the glue while squeezing the bottle (thinking it might open on its own?) and the bottle EXPLODED right into my face!  Weird brown glue (this was not our friendly Elmer's school glue) shot right into my eyes, coating my contacts instantly and stinging like crazy.  So now I was in pain and essentially blind, with a classroom full of kids.  There was no sink in the room so I felt my way into the hall (luckily the kids' bathrooms were right across from my room), turned on the sink and began splashing water into my eyes.  My eyeliner and mascara immediately ran everywhere and my eyes were bright red once I got the glue out enough to see again.  Oh yeah, and the first grade children were back in my room completely unsupervised!  But, I wiped my eyes with a rough brown paper towel, took a deep breath, and went back to work.
I survived my first day and my first year and in the end, all was well.  The hardest part about teaching is that YOU ALWAYS HAVE TO BE THE ADULT.  In almost any other job, you can temporarily be tired, whiny, grouchy, irresponsible, or sick without everything coming to a screeching halt.  But as a teacher, even if you're blinded by cheap brown glue, you still have to keep going.   All teachers have their little horror stories, but we all survive and can later look back and laugh.  The trick is to not give up!
So here's my tips for surviving and thriving in your first year of teaching.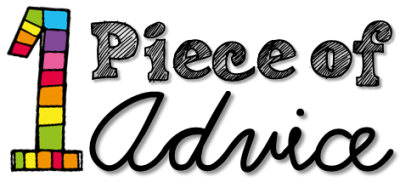 BE KIND TO YOURSELF.
The first year of teaching is like riding a roller coaster while trying to eat a meal, do your taxes, and juggle.  It's messy, confusing, overwhelming, out of control, and has lots of ups and downs.  It won't be perfect or even what you hoped it would be and that's okay.  Your goal is to do your best, learn a lot, and take good care of yourself.  There are lots of ways to be kind to yourself, but here are a few:
* Don't expect perfection.
* Don't try to do it all.  (Postpone a few big goals for year two!)
* Ask for help.
* Forgive your mistakes.
* Pamper yourself after work.
* Do something fun and just-for-you every single weekend!

My must-haves are directly related to my piece of advice (be kind to yourself).  Your be-kind-to-yourself must-haves might be different than mine, but I'm sure you'll get the gist.
My first year (and every year after, to be perfectly honest) I spent A  LOT of time at school.  And if you don't count time spent sleeping, I spent more time at school than home.  So go ahead and think of your school as a second home!  Make it comfortable and welcoming.
1. Slippers!
One thing that made every school day just a little better was having a pair of comfy, cozy slippers hidden under my desk.  After being on your feet all day, it's simply glorious to throw off your shoes and slip into something plush and warm.  And yes, there were a few times when my actual shoes were killing my feet and I wore my slippers while teaching.  The kids didn't seem to mind.  🙂
Here are some fun options!
2. Something That Smells Lovely
Might sound silly, but a lovely smell can really change the feel of a place.  Pick a scent that makes you feel calm or happy or energetic – whatever you need.  There are so many ways to make a room smell great these days, so just pick the one that works for you!  I don't recommend regular drug store sprays, simply because the chemicals can be irritating for students with asthma (they don't last anyways) and most schools won't want you burning candles.  But luckily there are tons of natural, subtle options from reed oil diffusers to gel beads to aromatherapy machines.
For the reed oil diffusers, you'll definitely want to go to a store so you can smell the scents first! (And I'm sure you can find a better deal.) And with any of these, be sure to keep them out of the reach of the kids. But here's some images to help you get a feel for the types of products I'm talking about:

1. Master Transitions
One of the most "dangerous" times of every school day is when you are transitioning from one activity or location to another.  Those few minutes of down time are a breeding ground for little problems that can derail whatever comes next.  So be ready!  Teach the routines, practice procedures, and make sure that every time students walk into a room or switch activities, they know exactly what to do next.  If kids are waiting in line, play a quick math fact game.  When kids walk in after recess, start a routine that they immediately begin 5 minutes of silent reading.  It doesn't matter what the plan is, as long as you have one.
2. Focus on What's RIGHT
As a first year teacher, I put so much pressure on myself to have the perfect well-behaved class of happy learners.  I became hyper-focused on every misbehavior, every off-task student, and every little thing that went wrong and I tried to fix it all in that moment.  The more I focused on the negative, the more of it there seemed to be!  Don't make my mistake.  Instead, focus your attention and energy on what is going well.  Praise the good choices of students instead of harping on poor choices.  Celebrate quality student work rather than constantly pointing out flaws.  If the kids are in line and half of them are talking, praise the kids who are waiting quietly.  It's such a simple switch in thinking that makes a HUGE difference!  The more positive I pointed out, the more of it I got!
3. When all else fails, do a read aloud!
My number one, go-to savior during those first weeks of school and forever after, is the read aloud. Nothing calms and refocuses a classroom like a great read aloud.  Kids getting too rowdy?  Do a read aloud.  Kids bickering and cranky? Do a read aloud.  Lesson fell apart and don't know how to save it? Read aloud!  Reading aloud to your class is like pushing a reset button!  Rather than getting frustrated, overwhelmed, or angry, use a read aloud to refocus and then make decisions about next steps with a calm mind.
For more Back to School motivation you can also check out my post 6 Ways to Rock the New School Year.
Okay, let's get to the Giveaways!!
Giveaway #1: Especially for New Teachers!
Prize one includes 8 products PLUS a $60 Target Gift Card!  We each picked our two favorite products that make life a littler easier, especially for new teachers!  One lucky teacher will win the whole thing!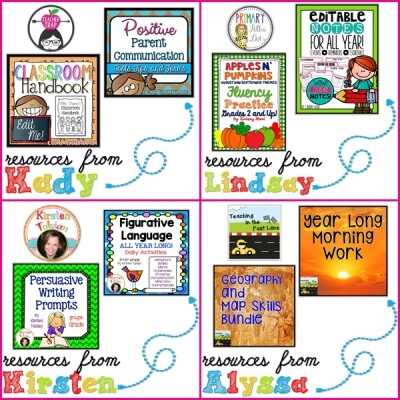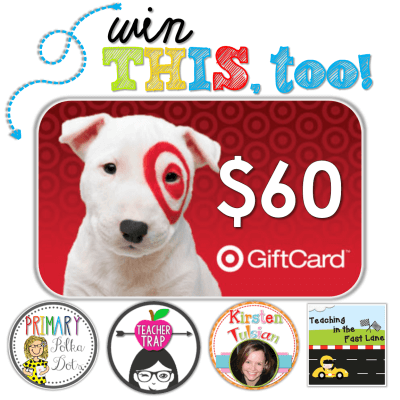 Giveaway #2: For All Teachers! 2 Winners!
Winners will receive a $25 Gift Certificate for Teachers Pay Teachers so you can stock up on all those back-to-school essentials!  There will be 2 lucky winners on Friday!

Check out the other great blog posts with tips for new teachers!  Do you have advice for first year teachers??  Use the banner above in your blog post and add your link below!