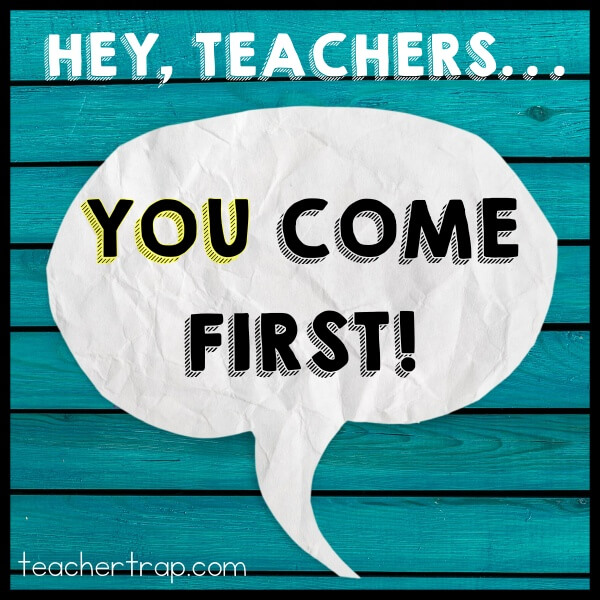 Hey, overachiever! Yes, you, the perfectionist who wants to do it all and then some more. The teacher who spends all her money on her classroom and all her free time searching for the most engaging way to teach (insert topic here) and all her energy on inspiring little learners.
Have you done any of the following during the last school year?
stayed at school past 5:30 pm
worked through your lunch break
come up to school on a WEEKEND
spent more than an hour working on school stuff AT HOME
needed more than 2 cups of coffee/soda to keep you going during the school day
had a total mental freak-out/breakdown from stress build-up
If you answered "YES" to one or more of those, please stick around and read this post!!
Have you ever heard the catch-phrase "Put students first"? I hear it come up (or some form of it) in school mission statements and in faculty meetings and on school district websites. It's like a badge of honor when someone starts going on about how "we put kids first." Here is the big problem with that phrase (or that kind of thinking.)  People often seem to forget, that in order to "put students first," we can't put teachers last!
The purpose of my post today is to encourage (to implore, to BEG!) all you teachers out there, to put YOURSELF first, and to give you some specific ideas (and one big secret!) on how you can do just that.
First, let me start with a quick walk down memory lane. For most of my teaching life, I was the typical overachieving, self-sacrificing, must-do-it-all kind of teacher. I volunteered for everything I could (team leader, committee chair, professional development opportunities, pilot programs, grants, mentoring roles, and so much more). I spent my summers unit planning, hunting down classroom decor, and preparing all the games and stations and centers I could come up with. During the year, I often left school after dark and came up most weekends. I lived in a constant state of "preparation and planning."
Because of all this, I often lived in a state of frustration and dissatisfaction. Most of the time, I felt let down because all of my planning didn't create the perfect lesson/activity/school day that I had imagined it would, I felt unappreciated for all my "personal sacrifices" and hard work, and I felt stressed from the weight of all the other responsibilities that go with teaching. I wasn't the "perfect" teacher I wanted to be and I was tired, isolated, and losing my steam quickly.
Eventually, I left the classroom and tried out other roles, like working as an Instructional Coach and then an Intervention Teacher. When I returned to the classroom last year, I knew I couldn't just go back to my old habits. I didn't want to feel the way I'd felt back then. If you read my post, Taming the Teacher Work Week, you know that I stopped staying late and coming up on weekends. That made a HUGE difference and was part of a shift in how I approached teaching in general.
The big shift was that I started to put myself first. And once I started taking care of me, I found that I had more energy for my students and more passion for teaching. I was more present than I'd ever been before, and because of that my instruction was more focused and flexible, my connection with students was more powerful, and I was an all around happier teacher, mother, friend, and person!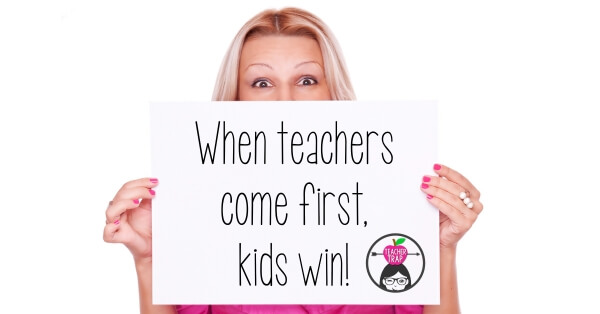 3 Ways to Put Yourself First
Learn to Say "No" Without Feeling Guilty
This was so hard for me, and still is. As teachers, we're natural care-givers and often people-pleasers, too! But here is what I finally came to realize – I'm not helping anyone if I'm overworked, stressed, tired, and resentful. As a teacher, what matters most is that I'm focused and excited when I'm with my students. So maybe you don't have to be Chair of the Math Vertical Team AND Team Leader AND on the School Improvement Committee AND be a PTA Officer AND offer after-school tutoring. Pick one thing and let the rest go.
Stay in the Moment (As Much As Possible)
Also hard for me… Because I'm a natural planner and teaching involves a lot of planning, it's easy for me to get caught up in the preparation side of things. If you find that you try to work on lesson plans while kids are in stations or you quickly prepare materials while students do their independent writing or you frantically race around during the day "preparing" for what's to come, you might be caught in the "preparation loop" like I was. I had to FORCE myself to stop all that. Instead, I prepared what I could during my planning period and for the hour I stayed after school, and whatever wasn't done during that time, I just had to let go! When my students were in the room, I focused on teaching and learning, not planning!
Invest in Yourself
One of the most powerful things I did was sign myself up for the 40 Hour Teacher Workweek Club created by Angela Watson. I'd heard about it from a few friends, but wasn't sure if it would really help me. Turned out, the Club was SUCH A GIFT FOR ME, so I'm going to blabber on about it for a few minutes and try to convince you to check it out, too! The purpose of the club is to help you become a more efficient, effective, and happy teacher, and it 100% does just that! It's like a year-long support system with focused monthly strategies and resources that you can access and use at any time.
NOTE: The 2017 sign up is only open until July 7th!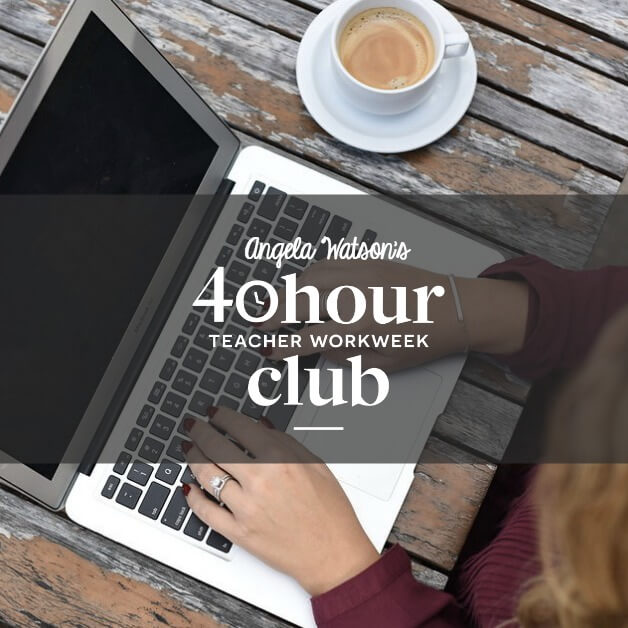 There are so many things that I love about this Club, but I'll only focus on the highlights for the sake of time…
Monthly Focus Strategy: Each month has a focus. For someone like me who tends to focus on everything at once (and then accomplishes nothing), this was a big deal! Angela lays out specific goals, guiding questions, and a variety of resources to help you stay on track.
Flexibility: The resources are doled out throughout the year so it isn't too overwhelming all at once, but then everything is still there for you to access as needed. I love that I can pick and choose what I need at the time, but can always go back to things I skipped or missed.
Amazing Resources: I love the curated sets of timely resources provided each month. Angela does such a great job of finding the best productivity resources for teachers! It might come in the form of a podcast, an editable template of some kind, or an awesome product from TPT, but I always look forward to those little bonuses!
The Facebook Group: Each cohort has a Facebook Group where you can talk with other members, share ideas, ask questions, and more. I love being part of a group of teachers with shared goals and challenges.
As you can see, I am a BIG believer in the club. If you're not sure it's right for you, you might check out this little quiz. Click here to take the 12 question, personalized quiz to see what results YOU can expect with the club.
Again, I truly believe that in order to put kids first, we have to put teachers first. And I know that doesn't exactly make sense, but I like to think about it like the oxygen masks on an airplane. They always tell you to put the oxygen mask on YOURSELF first before helping children or others nearby. That's because if you haven't taken care of yourself, you aren't much good to anyone else!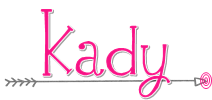 Note: This post contains affiliate links. ALL opinions are my 100% honest opinions and experiences.