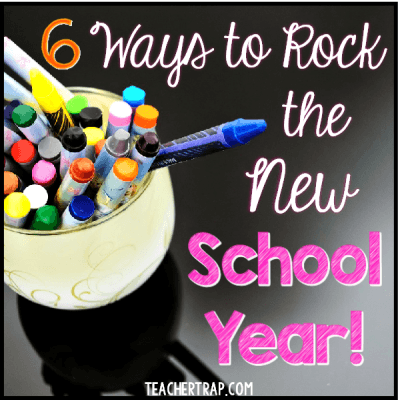 Launching a new school year, or even just beginning again after winter break, are both "pay for it now or pay for later" kinds of times.  I've never seen a district curriculum calendar that includes a week of "teaching expectations" or "classroom community building" at the beginning of the school year, and definitely not after winter break.  "Back to school" time rarely receives the attention it deserves. But as teachers, we know the importance of those lessons!
I've definitely been one to make the mistake of jumping into curriculum without taking the time to set up routines or build community.  And I have paid dearly later!  This post is all about front-loading your semester so that you don't end up spending half of it reteaching basic expectations, practicing procedures, and dealing with student bickering, tattling, or poor attitudes.
1. Build in LOTS of time for sharing.
This is especially hard for me because I'm not a fan of small talk, meeting new people, or sharing things about myself.  (Which sounds horrible, I know.  I'm just shy and introverted so it's hard to do all the get-to-know-you stuff!)  But I have learned that most children NEED sharing time first.
Some kids need the chance to share about themselves with the class, some need the chance to hear about others in the class, and some need the chance to share with YOU.  It's interesting to me how different children need different experiences to feel safe and comfortable.
For the first week of school, I recommend doing at least 2-3 sharing activities a day.  Here are some ideas to get you going:
Bring an item from home that means something special and tell the class about it

Create a timeline of your life to share and hang

Quick "Either/Or" Surveys (Stand if you prefer art class, wave if you prefer music class.)

Make a poster of family photos to share and hang

Write a story about the most exciting event of your summer

Quiz-Quiz Trade "Get to Know You" Questions

Small lunch groups with the teacher (better for sharing!)

Play "Two Truths and a Fib" (Class guesses which is the fib!)

Create a poster of your favorites to share and hang
The important part is that each student gets the chance to share who they are with both you and their classmates.  And don't forget to share about yourself, too!
2. TEACH expectations and PRACTICE procedures.
Setting up a classroom to run smoothly is more than hanging a poster of rules (duh).  But I know many teachers, myself included, feel pressure to get going on curriculum and instruction and don't give this part the real time and practice needed.
Take a minute to brainstorm and identify for yourself:
What are your classroom behavior expectations?

What procedures will students need to know and follow?
For both questions, make an exhaustive list!  Include it all!  My list includes things as detailed as "look people in the eye when you say 'hello" and "use positive words with yourself and others."  Once I have my list, I start mapping out what needs to be taught when.  Some things kids need to know on the very first day, such as bathroom procedures, while others can wait until a few weeks into the year, like "look people in the eye when you say "hello."  I add the procedures and expectations I want to work on into my lesson plans just as I would any other lesson.
For expectations, group similar ideas so that you have around 5 main goals.  During those first weeks, explicitly teach what each expectation means by discussing, modeling, and practicing what it should look like and sound like.
For procedures, create step-by-step anchor charts and PRACTICE the routines until students no longer need to refer to the chart.
3. Set GOALS.
Goal setting is probably one of the most common things to get skipped.  The power of goal setting is that it helps students connect to their PURPOSE for being at school and to VISUALIZE what their time at school will look and sound like.
It's important to help kids understand and set meaningful goals.  For example, I have my students set "Math Goals" in the front of their Math Journal.  Without direction, most students will set goals like "Do better in Math" or "Make A's in Math."  For more focused goals, begin with a brainstorm of possibilities as a whole class.  Have students consider what they struggled with last year and create a list of ideas together.
Potential Math Goals:
Keep a positive attitude even when it gets hard.

Practice my math facts at home.

Show my work even when it takes more time.

Keep an organized math journal.
Set goals as a class, too!  Together, you can set goals for attendance, for positive attitudes, for homework or whatever gets the kids motivated.
Once the students have set goals, individually or as a class, make sure you give them time to visualize the outcome.  What will it look like, sound like, and feel like to be on track with the goals?  Students can write, draw, or even create comic strips that depict the process they will take to reach their goals.
4. Team building matters.
If you want your students to appreciate one another, work together collaboratively, and be supportive of each other, then you've got to help them feel like part of a TEAM.  Team building activities are a great way for students to get to know each other, become sensitive to the strengths and needs of others, and to feel like they are a part of the group.
Here are a few simple ones that work well with elementary aged students:
Human Knot: Groups of 6 – 8 students stand in a circle.  Everyone reaches out and grasps hands with someone across from them (but not the same person for both hands).  Then, without letting go, the group tries to unravel itself back into a circle.  
Group Building Projects: Give groups of 4-5 students the same sets of materials.  Assign a task such as "build the strongest bridge" or "build the tallest tower" or "make a statue of the teacher" and let them get to work!
Keep the Balloon Up: Create groups of 3-5 students.  Give each group a balloon and challenge the groups to keep their balloon in the air for 1 minute, then 2, then 3, etc.
Puzzle Race: Create groups of 4-5 students and give each group a puzzle with the same number of pieces.  (The Dollar Store has perfect ones!)  Have groups race to put their puzzles together.
After team building activities, be sure to take time to debrief.  Ask questions for reflection like:
What made this challenging?

What is something someone said or did that was helpful?

Did you want to give up?  What helped you keep going?

What did your team do that you really appreciated?
The discussion helps students become more aware of how groups can support each other and to consider their individual role on a team.
5. Review, remember, reteach.
It always astounds me how much students forget over the summer and even over winter break.  After all that hard work and learning, sometimes it feels like half of it just falls out of their heads!  My gut response to these apparent gaps in memory is frustration, blaming, and sometimes a little hopelessness.  BUT, it helps if I EXPECT my students to return with temporary memory loss.  🙂
Rather than jumping into new learning, I make a point to have students remember and share things they learned last year.  For example, as we begin Social Studies, I might have the kids create posters of words and drawings that represent everything they remember doing and learning in Social Studies last year.  In math, I might give them a "test" where all they have to do is mark each question green, yellow, or red (I know this, this looks familiar, or not a clue!) In reading, our first anchor chart is students brainstorming ideas about "what good readers do."  These activities have a way of jump starting their little brains and bringing past learning to the surface.
As I begin to recognize the real gaps in learning, I can immediately begin reviewing and reteaching things that I know students will need in upcoming lessons.
6. Read alouds RULE!
In my personal opinion, the read aloud is the most powerful and magical thing that happens in classrooms.  Class getting rowdy?  Read aloud.  Students bickering?  Read aloud.  Want to get kids excited about a topic?  Read aloud.
During the first week of school, I might do 2 – 3 read alouds a day.  They are great for sparking conversations about nervousness, making friends, behavior, school expectations, and any other topic you want to focus on that first week back.  I also find that they are a great way to calm anxious minds and get kids back into a "listening and thinking mode."
Here are some of my favorite "back to school" read alouds:
Wemberly Worried, by Kevin Henkes
First Day Jitters, by Julie Danneberg
The Kissing Hand, by Audrey Penn
Scaredy Squirrel, by Melanie Watt
Chrysanthemum, by Kevin Henkes
Stand Tall, Molly Lou Melon, by Patty Lovell
What if Everybody Did That?, by Ellen Javenick
To recap:
SLOW DOWN!  I was once told, "Sometimes you have to go slow to go fast."  This is a great example of just that.  By taking the time to do things right in the beginning, you save yourself frustration and wasted time later.
At the beginning of the year, or after winter break, don't try to jump right back into curriculum like the kids didn't just spend weeks eating sweets, staying up late, playing video games, and living happily without a posted daily schedule and predictable routines.  And don't pretend that they have retained everything they learned during the last school year or first semester.  Rather than going batty giving constant reminders, trying to get kids back on topic, and wishing they'd stop telling stories about everything that happened over the break, set your class up for SUCCESS!
If you're looking for more back-to-school resources, check out my Back to School Book!  You'll find activities and printables for launching an awesome new school year!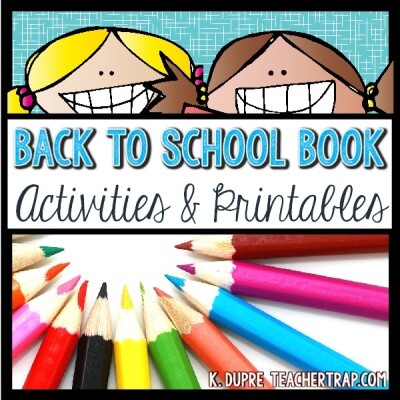 I'd love to hear your ideas for rocking the new school year!  What are your favorite activities, read alouds, and community building tips?