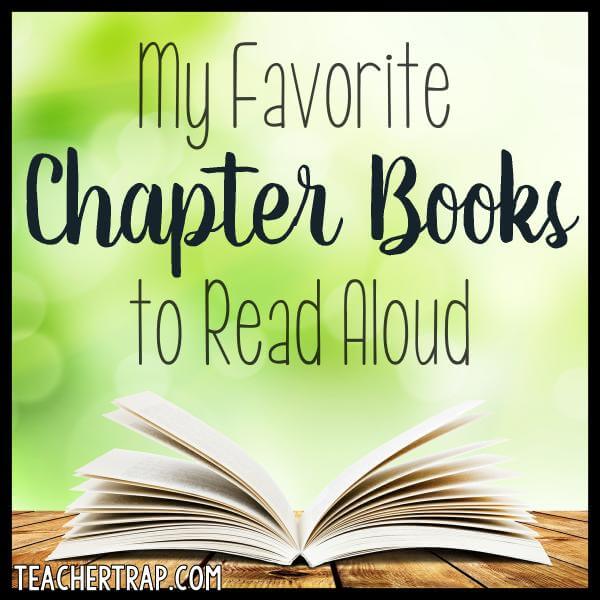 A teacher I deeply admire once told me that children should be read aloud to at least 6 times a day while at school.  She made a point to read aloud a picture book (or two or three), some nonfiction texts, some poetry, and a few pages of a chapter book every single day in her classroom.  The 6-a-day goal is tough, but it pushed me to look for ways to build in read alouds and shared readings as much as possible.  And I do think it makes a difference.
When kids listen to reading they have the chance to develop powerful comprehension strategies without the distraction or frustration of decoding text.  They can focus on making connections, visualizing, and making meaning of the text.  They can expand their vocabulary with the support of the teacher and their classmates.  In case you can't tell, I'm a big proponent of reading aloud.  🙂
Read Aloud Round Up: Chapter Books Your Students Will LOVE
Today, I thought I'd share a few of my very favorite chapter books to read aloud, along with an outstanding list of recommendations from other teachers.  If you have favorites that aren't listed, be sure to add them in the comments!  So here's mine… (affiliate links)
#1: There's a Boy in the Girls' Bathroom by Louis Sachar (Grades 3 – 6)
This book is, hands-down, my favorite book to read aloud.  Ever.  I've never had a class not be completely enthralled by the struggles of Bradley Chalkers.  I first read this book when I was in fourth grade, and obviously, it stuck with me.  Don't be fooled by the silly title; there's a lot more to this book.
It's the story of a disliked fifth grader who is so used to making mistakes and ruining things that he's given up on trying.  He's accepted who he is and even embraced it, and so has everyone else including kids and teachers.  But the new school counselor is different.  She treats him like he's someone else, like the person he could be if he tried.
My students relate to the frustration and fear he feels, along with the reluctance of the other students and teachers to let Bradley change.  They cheer when Bradley earns his first gold star and yell when he tears up his homework that he'd worked so hard on.  And when I cry at the end, because I do every time, many cry with me.  Louis Sachar does an absolutely brilliant job of portraying what it's like to be a fifth grader, what it's like to be afraid of who you are, and what it means to be a real friend.
This book is perfect for 3rd through 5th graders, but might be a bit confusing for younger students.
#2: Charlotte's Web by E.B. White (Grades 2 – 7)
Next on my list is the classic Charlotte's Web.  Most adults know the story, but I'm surprised by how many students have never heard of it or have only seen the movie or cartoon version.  My students are always glued to me as read, fascinated by the mini-world of the barn, the companionship of the animals, and the imminent cycle of life.  This book is amazing for building vocabulary, teaching visualizing, and analyzing character traits.
#3: The Great Gilly Hopkins By Katherine Paterson (Grades 4 – 7)
I love this book for so many reasons and my students always love it, too.  The subject matter is a little heavy at times, including lying, theft, racism, and a young girl with a sassy mouth, but it prompts incredible discussions among the students and requires deep understanding.
You'd definitely want to read this book before reading it aloud to students.  I know some parents and teachers feel it is inappropriate.  I, on the other hand, think it's a beautiful story of a lost little girl who finds love and acceptance in unexpected ways.  My students usually dislike Gilly in the beginning, then begin to empathize with her, and by the end have a deep personal connection.  In the real world, there are angry kids, lost kids, kids who make mistakes.  Life isn't always pretty, or easy.  Katherine Paterson does an amazing job of showing how people can grow and change with just a little bit of love and support.
#4: James and the Giant Peach by Roald Dahl (Grades 3 – 7)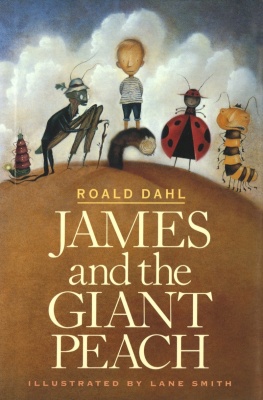 This book is just so fun to read aloud.  With all the crazy characters and the suspense and the adventure, students love it!  You can't read this book without visualizing and predicting and doing all of those important reading strategies we want kids to use.  If you're lucky enough to get a class of kids who haven't all seen the movie, then try reading sections, having kids sketch, and then comparing their drawings.  It's perfect for discussing text evidence and inferring.
#5: A Series of Unfortunate Events: The Bad Beginning by Lemony Snicket (Grades 5 – 7)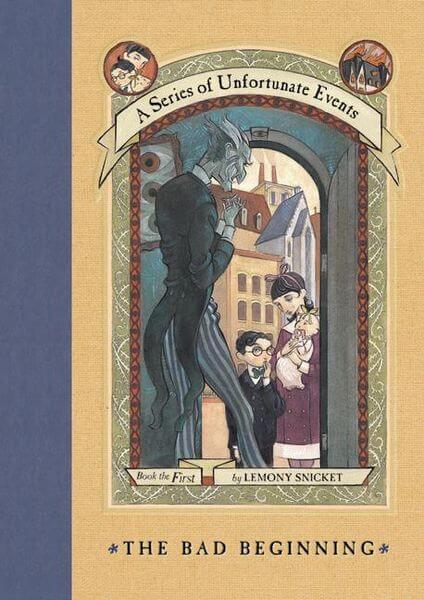 First off, this book is technically recommended for fifth grade and up, but I've read it to many classes of 3rd graders and it was a hit and we loved it.  So… ?
If you've never read one of the "Unfortunate Events" books, I highly encourage you to go out and get one TODAY.  They are amazing.  They are creepy and suspenseful and beautifully written, AND Violet (the main girl) is smart and tough and brave.  I also highly encourage you to read it in a slow, quiet voice (even in your head), to really notch up the creepy factor!  I love using these books to discuss writing hooks (Lemony is the master) and other techniques such as describing the setting and characters, using dialogue, and varying sentence length.
More Teacher Recommendations:
Recently on the Teacher Trap Facebook page, teachers submitted their favorite chapter books to read aloud.  I'm loving all these suggestions and I've listed them in order by grade level.
By Mary Pope Osborne: The Magic Treehouse Series (Grades 1 – 4)
By Louis Sachar: Sideways Stories from Wayside School

By Roald Dahl: The Witches (Grades 2 – 7)

The BFG (Grades 2 – 7)
By Lynne Reid Banks: 
The Indian in the Cupboard (Grades 3 – 7)
By Avi: Poppy (Grades 3 -7)
By Andrew Clements: Frindle (Grades 3 – 7)
By Bob Buyea: Because of Mr. Terupt (Grades 3 – 7)

By R.J. Palacio: Wonder (Grades 3 – 7)
By Kate DiCamillo: Because of Winn-Dixie (Grades 3 -7)
The Miraculous Journey of Edward Tulane (Grades 3 -7)
Tale of Despereaux (Grades 3 -7)
By Liesl Shurtliff: Rump: The True Story of Rumpelstiltskin (Grades 3 – 7)
By Jack Gantos: Joey Pigza Swallowed the Key (Grades 4 – 9)

By Christopher Paul Curtis: Bud, Not Buddy
 (Grades 4 – 7)
By Elizabeth George Speare: 
The Sign of the Beaver (Grades 4 – 7)
By Katherine Paterson: Bridge to Terabithia
 (Grades 3 -7)

By Kimberley Willis Holt: When Zachary Beaver Came to Town (Grades 5 – 9)
By Pam Munoz Ryan: Esperanza Rising (Grades 5 – 10)

Out of My Mind (Grades 5 and Up)
By Lynda Mullaly Hunt: Fish in a Tree (Grades 5 and Up)

For Older Students: The Outsiders by S.E. Hinton, The Gentlemen and Me by Mary Downing Hahn
If you're looking for more read aloud inspiration, you might check my post on the best picture books for teaching reading comprehension strategies.
What did we miss?? 🙂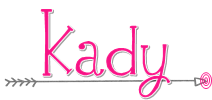 >>>This post contains affiliate links.  Click here to read my Disclosure Information.