How are you feeling, teachers?  Overworked?  Tired?  Behind?  I'm here to share with you how I tamed my teacher work week and how easily you can do the same!  There is hope!
For years, I was that teacher up at school every weekend and staying until the sun went down on weekdays. I thought that if I had everything prepared just so that my students would learn more, I'd feel calmer, and we'd avoid any problems.  I came early and stayed late but still felt overwhelmed and behind.  This school year, I made it my mission to make teaching doable!  I was convinced that there was a way to be a great teacher, but still work reasonable (and not completely insane) hours, even though that wasn't my reality quite yet.  So here is what worked for me, and hopefully it can help you, too!
Step 1: LET GO!!!
I'm not talking about letting go of planning awesome lessons or being prepared for work or being a responsible adult (however tempting).  This "letting go" has to do with dropping the expectation that you will ever feel completely prepared.  This is a myth.  A fantasy!  No matter how much you plan, prep, and strategize, the kids will still be kids, the document camera will break, the awesome lesson will be a flop, and your grand intentions WILL go right out the window.
There was one Friday afternoon that I was working away, feeling overwhelmed by the massive to-do list in front of me when a co-worker popped her head in to say good-bye.  "How are you already done?" I moaned jealously.  "How are you not?" she replied.  "It will all be there waiting on Monday. Let it go and go home."
I honestly didn't understand her words in that moment, but I thought about them all weekend.  And she's right, folks.  Teaching is a special type of job where you are truly NEVER DONE.  There's always something else you could be working on, preparing, improving, planning.  It's up to you to set your limits, use your time wisely, and then LET GO!  Driving yourself to the brink insanity is not going to make you a better teacher or help your students learn.  Protect your time and personal life fiercely so that you can show up feeling energized and excited to teach.
Step 2: Join the "40 Hour Teacher Work Week Club" Yesterday!
I was a follower of Angela Watson's blog The Cornerstone for Teachers for many years before I even considered joining the 40 Hour Teacher Work Week Club.  Maybe because 40 hours sounded too crazy to be feasible!  But now that I've made the plunge, I can say that it is, without a doubt, one of the best things I did for myself as a teacher!  Angela provides monthly focus goals to help you use your time wisely, set up manageable systems, and still be an all around AWESOME teacher.
There are also are amazing free resources that arrive just when you need them!  Plus, you are part of group of teachers all working toward these same goals.  It's such a supportive and collaborative community.  It's what every school campus SHOULD be like.
(And just to be transparent: I recently updated the link to the Club to be an affiliate link. Obviously, I believe in the Club and promote it ONLY because I've experienced first-hand what a gift it can be!)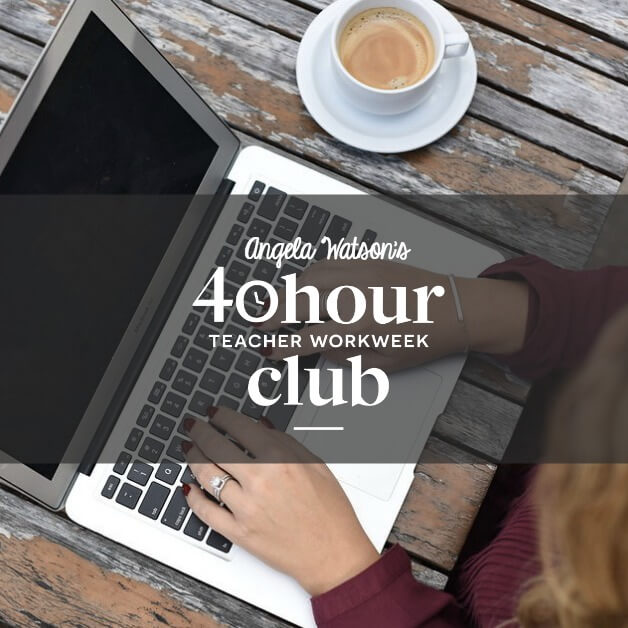 Step 3: Prioritize, Plan, and Conquer!
It took me awhile (let's be honest – years) to pinpoint what was causing me to need so much time for preparation, planning, and to-do lists, while other teachers seemed to be out the door by 4 every single day.  My personal issue is that I want to DO IT ALL!  I noticed that when I sat down to write my lesson plans for the following week, I'd get distracted by a lesson idea and suddenly need to go off and research/plan/search for everything that would make that lesson idea perfect.  I'd get sucked down a black hole of Pinterest searches, teacher blogs, digging through old files, and searching for materials. Pretty soon, I'd have spent an hour planning one or two lessons and still not have my week's plans complete.
The other pattern I noticed was work avoidance.  Grading is my killer!  I'd have stacks of papers that needed to be graded, but suddenly I felt the need to rearrange the desks, clean out the classroom library, or create a new math station.
If you watched me work, you'd see I was focused, busy, and doing things that really did make my classroom and teaching better.  I wasn't WASTING time, but I definitely wasn't using it efficiently.
My solution was to create a plan that would force me to take care of the PRIORITIES before I could work on all that other stuff.  Interestingly, when the prioritized tasks are completed, the other stuff is often not so important…
First Step: Make a list of the big tasks you need to accomplish each week – your MUST-DO's. Mine were writing the following week's lesson plans, prepping materials and copies, and grading.
Second Step: Look at the time you have available.  I only have my Planning Period and after school since I don't arrive early.  (School starts at 7 and that's early enough for me!)  Plus, we have weekly Faculty Meetings, PLC Meetings, and Team Planning. Once I added all that to my week, I could see how much time was really available.
Third Step: Make your plan for the MUST-DO's.  Designate days and times when those things are your priority!  I added them to my week in bold and all-caps.  On those days, I force myself to ONLY focus on those tasks and do nothing else until they are completed.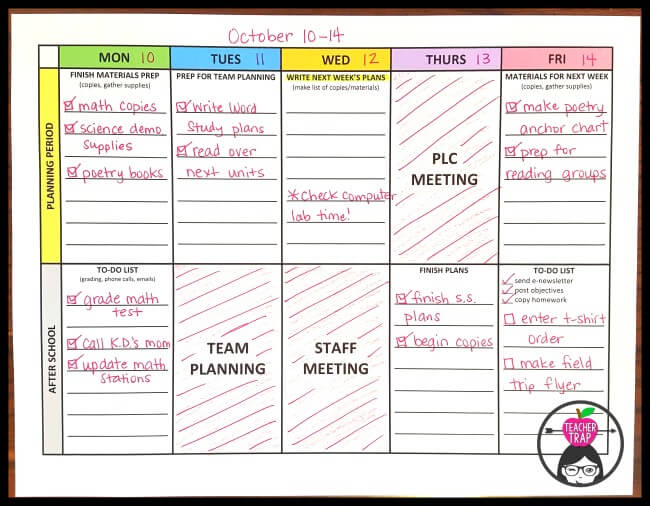 I've also added in repeating tasks that I know will need to be done as part of the week.  For example, if you notice above, on Fridays after school, I always send out my weekly e-newsletter to parents, post my objectives for the following week, and copy the homework.
The most important (and hardest) part is to STICK TO YOUR PLAN. If I finish writing my plans on Wednesday during my Planning Period, then I might go ahead and start making copies and prepping materials.  But only if the plans are completely done!  No more work avoidance or getting distracted by planning for one single lesson.
Now, of course, things come up.  I'll have a parent-meeting or ARD or who-knows-what take over one of my boxes and throw the whole schedule off.  But so far, I've been able to simply shift whatever tasks get bumped to the very next free box and carry on from there.
Since I've started this new system, I have NOT needed to go to school on the weekend, I have NOT stayed past 4:30 once, and I have felt more relaxed and prepared for school than ever before.
I truly hope this might help some of you out there!  I've posted the editable template in my TPT Store as a free download so that you can make it your own.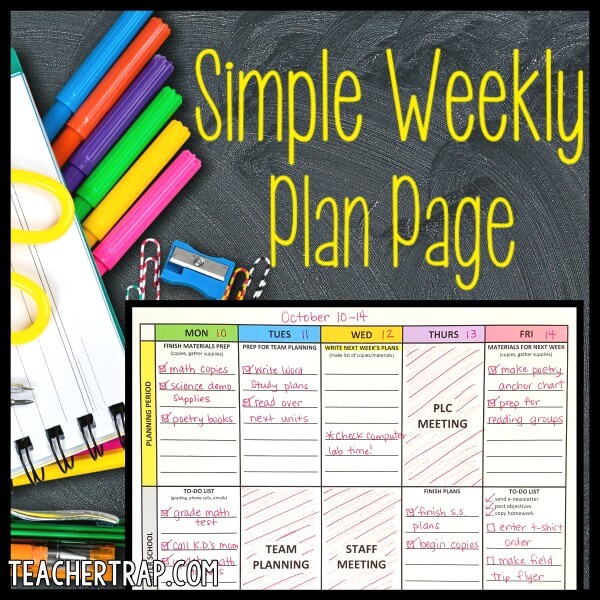 Feel free to share your own tips for time management and getting it all done!